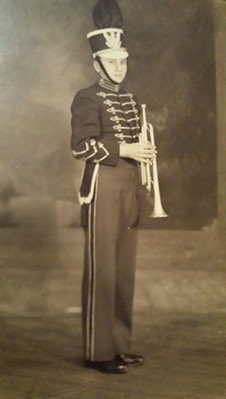 Vaughn's father - Leon Nark in 1938
Vaughn Nark began playing the trumpet at the tender age of six. His father Leon, also a trumpeter, was his first teacher. At seven, he was exposed to Dizzy, Miles, Maynard and Doc forever changing the ears of this aspiring musician from Mount Carmel, Pennsylvania. Soon after graduating from high school, Vaughn auditioned and was accepted by the United States Air Force Band in Washington, D.C., where he became a member of its premiere jazz ensemble, the Airmen of Note. He occupied either the lead or jazz trumpet chair for nearly 20 years.
Now retired from the "Note", Vaughn leads a quintet in the Washington, DC area and travels extensively throughout the country and abroad, performing as guest artist at various club and jazz festival venues.
Vaughn is pleased to be a new member of the faculty of the Landon School in Bethesda, Maryland and is available for private instruction
Mr. Nark is also a Yamaha Clinician and is available for clinics and adjudication.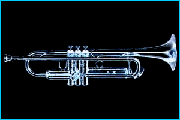 Vaughn plays the Yamaha YTR-6335S
"The first time Vaughn sat in with me I realized that he was something special"
- Dizzy Gillespie
"Tomorrow's inspiration today...Vaughn Nark is not only something special... Vaughn Nark is something else!"
- Dr. Herb Wong, Past President International Association of Jazz Educators
"Brace yourself. Vaughn Nark is the sort of jazz trumpeter for whom not even the sky is the limit. When his horn soars above double C on his new album, as it often does with exacting precision and blazing flourish, the notes seem Heaven-bound, so much so that perhaps even the trumpet-toting angel Gabriel may feel a slight twinge of envy"
- Mike Joyce for The Washington Post
"Consistently brilliant"
- John S. Wilson for High Fidelity
"A soaring musician"
- Gene Lees for The Jazz Letter
"A fierce trumpeter, a true innovator. Usually heard with USAF bands, and occasionally on his own in post-bop mode. A great soloist."
- Michael G. Nastos, All-Music Guide